I received two shipments today…my Bacon of the Month delivery, and a Mo's Bacon Bar from Vosges Haut Chocolat. I'll give you my thoughts on the bacon bar in a second, but first here is the description from the back of the candy bar wrapper:
Crisp, buttery, compulsively irresistible bacon and milk chocolate combination has long been a favorite of mine. I started playing with this combination at the tender age of six while eating chocolate chip pancakes drenched in maple syrup. Beside my chocolate-laden cakes laid three strips of fried bacon, just barely touching a sweet pool of maple syrup. Just a bite of the bacon was too salty and yearned for the sweet kiss of chocolate syrup. In retrospect, perhaps this was a turning point, for on that plate something magical happened: the beginnings of a combination so ethereal and delicious that it would haunt my thoughts until I found the medium to express it–chocolate.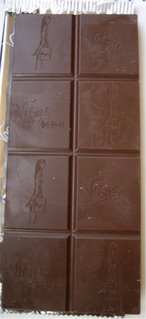 I decided to walk the candy bar around the office to give a sample to each of my bacon loving co-workers. All of us had the same reaction – "interesting." When you hold a piece of the chocolate up to your nose, you can definitely smell a smoky bacon-like scent. You can also see little flecks of bacon in the chocolate. When you bite into it, you get a crunch that comes from the bacon and salt. The smoky flavor is not overwhelming at first and is a nice complement to the dark chocolate. But what is most interesting is that you can really taste the bacon in your mouth about a minute later.
I can't imagine stocking my desk drawer with these, mostly because I'm not sure where you can buy them locally, but it was a pleasant afternoon snack for all involved.