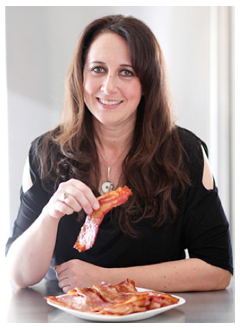 Hi. My name is Heather Lauer. And I'm here to tell you that bacon is the Best Meat Ever.
When I launched this website in June 2005, I was living and working in Washington, DC and looking for a creative outlet outside of my professional life. My love poem to bacon is an idea that was conceived over cocktails with my brothers. After countless vodka tonics, we came to the conclusion that 1) everyone loves bacon and 2) there aren't nearly enough websites dedicated to the topic of bacon (boy, have times changed since then…).
A few sober days later, I was still thinking about how much fun it really would be to take on the project of becoming a 'bacon connoisseur.' So I booted up my computer and created an account on Blogger. And thus began my love affair with bacon that is Bacon Unwrapped.
A book deal fell in my lap a couple years later. How I ended up with a book deal is beyond me, but click here to order your very own copy of Bacon: A Love Story – A Salty Survey of Everybody's Favorite Meat. Curl up in bed with it and maybe while you sleep you'll have visions of bacon wrapped shrimp dancing in your head.
My adventures with this blog and the book have led to me consuming a really impressive amount of bacon over the last couple years (more than is recommended by the USDA or any respectable cardiologist). Now my friends and family automatically think of me every time they eat bacon, and there's nothing weirder than receiving an email or call from someone who feels the need to report they had bacon for breakfast, lunch, dinner, and/or a snack at 2 am. But my adventures with bacon have been the source of much amusement, some incredible meals, and – best of all – many new friendships.
Unfortunately my bacon hobby doesn't pay the mortgage, so I own a strategic communications consultancy called Villageous that helps me keep food on the table. And no, unfortunately the pork industry is not a client.
Have a look around the site, try the Bacon Wrapped Tater Tots, and in the immortal words of Homer Simpson, "bacon up!"