Thanks to the Travel Channel, I had approximately five gazillion opportunities to catch reruns of Anthony Bourdain's No Reservations over the holidays. And thanks to the writers' strike, my Tivo didn't have anything better to do than to record most of the episodes.
So this past weekend I was watching the episode from the U.S.-Mexico border for the umpteenth time. I enjoy this particular episode because Bourdain brings some much needed perspective to the broader issue of border politics. He visits communities on both sides of the border and gives us a glimpse into the reality of border life. He accurately paints a picture in which communities separated by mere inches actually depend quite heavily on each other, rather than being at constant odds.
And of course Bourdain also samples a fair amount of Mexican and Southwestern food. One of his food-related adventures is at a place called TB's Bar and Grill in Del Rio. At this particular restaurant, Bourdain has the opportunity to sample a Texas-born delicacy called Corona Chicken.
The concept of Corona Chicken is quite simple – it's basically a filleted chicken breast that has been marinated. The chicken breast is then stuffed with onions, jalapenos, and cheese and wrapped into a roll. The ends are folded over and secured by skewering them with a bamboo stick. Then you wrap a strip of bacon around the chicken and grill it, glazing it with teriyaki sauce a couple minutes before it is done cooking.
Corona Chicken seemed like something that would be pretty easy to prepare at home, so I decided to give it a whirl for dinner. My parents were in town earlier this week for the Barrett-Jackson Car Auction (under the guise of "taking a trip to Phoenix to visit their daughter"), so they were the guinea pigs for this culinary excursion.
I marinated the chicken breasts for a couple hours in the refrigerator in a Southwestern-style marinade that I picked up at the grocery store. I used applewood smoked bacon from AJ's. For the cheese I shredded some gloriously fresh colby-jack cheese from Phoenix Ranch Market. I also diced some red onions to add to the stuffing. And I left the jalapenos out because I was preparing this meal for my parents and they aren't big fans of a lot of heat (but I would definitely use them next time).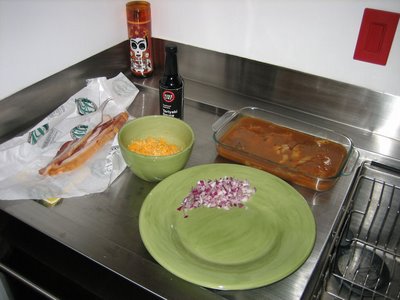 It's really important to get the chicken breast flat enough that you can stuff it with the cheese, onions, and peppers, and still roll it up tight enough so that the stuffing doesn't fall out. Otherwise cheese will ooze out over the grill and cause flame problems and a big ol' mess.
Also, make sure the bacon is wrapped tightly around the chicken so that it doesn't come undone during the grilling process. The bacon will not only enhance the flavor of the chicken, but it also produces a nice juicy chicken breast.
After you put the skewered bacon wrapped chicken breasts on the grill, turn them a couple times to cook the bacon and chicken evenly. I grilled mine over medium-high heat until the chicken was cooked through completely.
You could experiment with the ingredients for the stuffing to suit your tastes. There are probably a lot of ways to prepare a variation on Corona Chicken that would be quite nice. It could also be cooked on an indoor grill – or even in an oven – if you don't live in Arizona and grilling outdoors isn't an option in the middle of January! But regardless of how you do it, Corona Chicken is a delicious and easy meal to make anytime of year for a taste of the border.